Area 42A, located along Hospital Drive on Health Science Campus, will close in mid-July for repaving and restriping.
Once completed, the area will have a new, more efficient traffic flow pattern.
"We are removing the deadends at the parking bollards in Area 42A as we restripe so permit holders will have a much easier time getting in and out of their parking spaces," said Sherri Kaspar, executive director of ParkUToledo.
The surface lot will close at 8PM on Thursday, July 14. Weather permitting, Area 42A should reopen the last week of July.
"The Area 42A renovation is one of the many projects we have been working on this summer as we strive to get all of the surface lots on the University of Toledo campuses to industry standards," Kaspar added.
UTMC faculty and staff that typically park in Area 42A are encouraged to park in Area 41 during the renovation.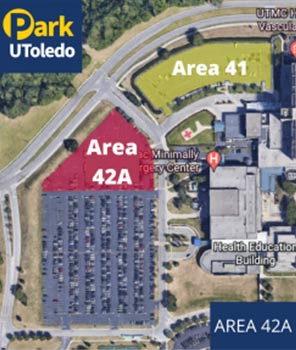 Please remember all vehicles on campus must be registered with a permit purchased online in advance or by utilizing the ParkMobile App or a parking meter when visiting campus.
Updated parking policies and procedures do have parking permits enforced between semesters, during academic breaks and on weekends.
Permit Enforcement Hours:
Monday through Friday 7AM-10PM
 Saturday & Sunday 9AM-5PM
On weekdays from 5PM-7AM and on Saturdays & Sundays, active permits may park in areas designated for other permits. Exceptions include: reserved, disabled, metered, patient and no overnight parking areas.