Starting Sunday, April 23, 2023, Parking Area 40, the main patient parking lot South of Arlington Ave near UToledo Medical Center's main entrance, will close for approximately 10-weeks.
During construction, patients will be directed to park in Area 41, located Northwest of the Heart & Vascular Center, North of the Emergency Department – off the corner of Arlington Ave & Hospital Drive at Entrance 2 (see image below).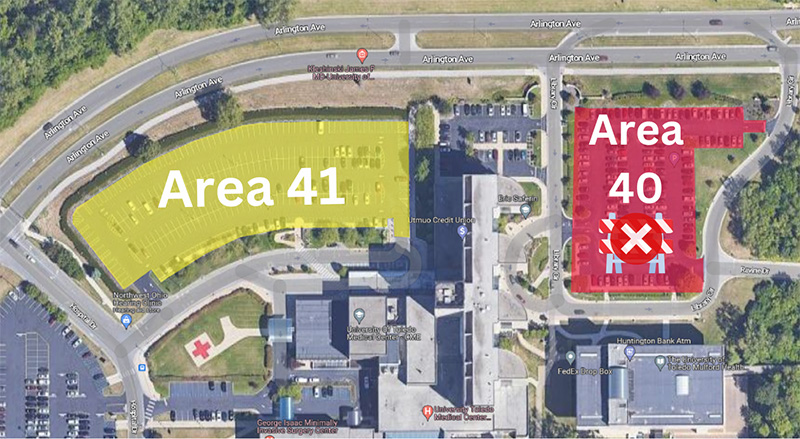 "G" & "A2" permit holders will still be permitted to park in Area 41 as usual. Please refer to the light post signs or line colors (yellow painted lines) as a secondary reference – green lined spaces are reserved for patient parking only.
Patients will be directed to enter the building through door #14. Door 14 is located beneath the awning East of the Emergency Department and West of Heart & Vascular Center (see image below).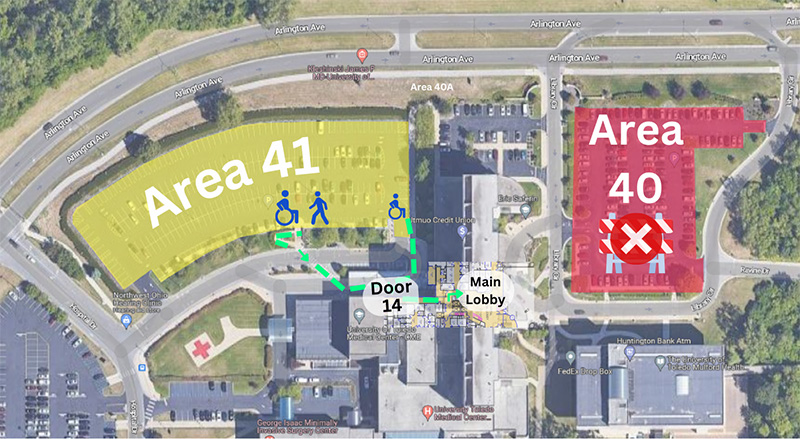 Weather permitting, Area 40 should reopen at the end of June.
For any questions regarding the renovation project in Area 40, please email info@parkutoledo.com.
— — —
If you are a UToledo student or employee with a permit who plans to park in a patient only area, please submit a Parking in Reserved Patient Area Form.
Unless explicitly stated in the article above, please remember all vehicles on campus must be registered with a permit purchased online in advance or by utilizing the ParkMobile App or a parking meter when visiting campus.
Updated parking policies and procedures do have parking permits enforced between semesters, during academic breaks and on weekends.
Permit Enforcement Hours:
Monday through Friday 7AM-10PM
Saturday & Sunday 9AM-5PM
On weekdays from 5PM-7AM and on Saturdays & Sundays, active permits may park in areas designated for other permits. Exceptions include: reserved, disabled, metered, patient and no overnight parking spaces/areas.