The renovation project for Area 48, which serves the Ruppert Health Center on The University of Toledo Health Science Campus, will shift to Phase 2B on Sunday, October 9, 2022.
During construction, the open section of Area 48 will be for PATIENT PARKING ONLY – staff and UToledo service vehicles will NOT be permitted to park in Area 48. All staff is encouraged to park in Area 43 or Area 46 throughout the duration of the construction project in Area 48. Staff with handicapped placards may park in marked disabled spaces in Area 48.
Phase 2B: October 9th – 24th
The renovation project will shift to phase 2B on Sunday, October 9, 2022.
The North Vehicle Entrance off of Transverse Drive will be closed during phase 2B.
The North (Door #1) building entrance will also close during phase 2B.
All ambulances and patient transport vehicles will be directed to the East (Door #2) entrance for emergency calls and patient drop-off – entering the parking area from the East Vehicle Entrance off of Health Center Drive (see image below).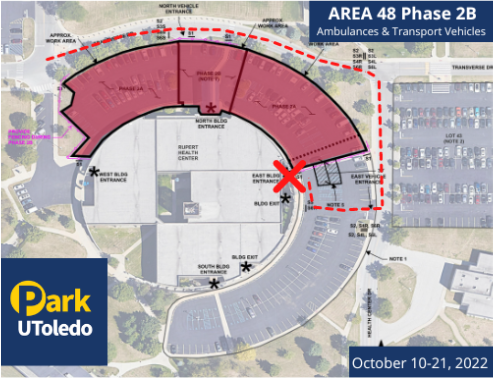 Door #8 (building exit) is to be used as an emergency exit only.
During phase 2B, the South (Door #5) entrance along with Door #3 & Door #4(building exits) will remain open.
The West building entrance (Door #7) will remain unaffected during the construction project.
There will be a walking path (indicated in blue in above image) open during each phase of construction.
All employees, students and staff are encouraged to park in Area 43. During construction, all open spaces in Area 48 are reserved for patients. Staff with handicapped placards may park in marked disabled spaces in Area 48.
All construction dates are subject to change.
Please remember all vehicles on campus must be registered with a permit purchased online in advance or by utilizing the ParkMobile App or a parking meter when visiting campus.
Updated parking policies and procedures do have parking permits enforced between semesters, during academic breaks and on weekends.
Permit Enforcement Hours:
Monday through Friday 7AM-10PM
Saturday & Sunday 9AM-5PM
On weekdays from 5PM-7AM and on Saturdays & Sundays, active permits may park in areas designated for other permits. Exceptions include: reserved, disabled, metered, patient and no overnight parking areas.