Employees, students and affiliates parking on The University of Toledo Health Science and Main Campuses now have the option to register to park in patient parking areas for periods when they'll be on site as a patient.
Click here to submit an optional form to park as a patient.
Forms must be submitted prior to the visit. Once a permit holder concludes their time as a patient, they are expected to move their vehicle to the appropriate parking area as designated by their individual permits.
Employees, students and affiliates can also visit ParkUToledo.com and follow the chart below.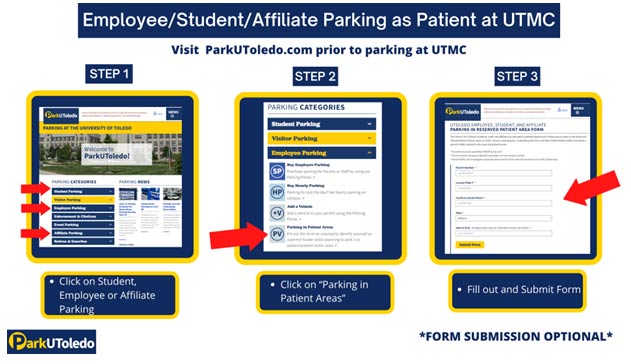 On the left hand side of the screen click on either Student, Employee or Affiliate Parking. On the dropdown menu, select "Parking in Patient Areas." Then fill out the form in its entirety.
Please verify you are entering the correct license plate number.
 "ParkUToledo worked closely with the leadership team at The University of Toledo Medical Center to come up with an option to allow patrons who work or study on campus to park as patients on the Health Science and Main Campuses when necessary," said Sherri Kaspar, executive director of ParkUToledo.
ParkUToledo is currently updating all patient parking areas with green lines to differentiate patient parking spaces from employee, student and affiliate parking spaces. All patient spaces should be green by mid-August.
If a ticket is received while parking in a patient area please call (419)530-4100 or email info@parkutoledo.com.
Please remember all vehicles on campus must be registered with a permit purchased online in advance or by utilizing the ParkMobile App or a parking meter when visiting campus.
Updated parking policies and procedures do have parking permits enforced between semesters, during academic breaks and on weekends.
Enforcement Hours:
Monday through Friday 7AM-10PM
Saturday & Sunday 9AM-5PM
On weekdays from 5PM-7AM and on Saturdays & Sundays, active permits may park in areas designated for other permits. Exceptions include: reserved, disabled, metered, patient and no overnight parking areas.