This summer, ParkUToledo dedicated over $3 million to improve various parking areas on The University of Toledo's Main and Health Science Campuses.
Area 1S Reopens with New, Safer Layout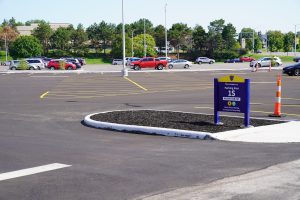 Situated east of health and human services on Main Campus, Area 1S is now open. Following an extensive renovation, the surface lot now boasts a safer, more efficient layout, featuring a single entrance and exit point conveniently located on North Towerview Boulevard. Thanks to the newly optimized design, 21 additional parking spaces were added to the high demand lot.
Area 4 Now Open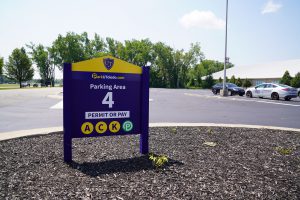 The construction project in Area 4, the parking area east of Fetterman Training Center, is now complete. The brief closure allowed for reconstruction of concentrated sections and the resealing and restriping of the entire surface lot.
Complimentary Air Compressor Installed in Area 18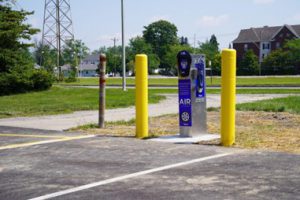 The construction project in Area 18 & 18S, located near the Student Recreation Center just north of the Computer Center, is now complete. The soil beneath the paved surface in Area 18 was stabilized and the lot itself was entirely reconstructed. In addition to the structural improvements, ParkUToledo also installed a complimentary air compressor. The campus community is welcome to use the air compressor to inflate vehicle or bicycle tires at no cost.
UTMC Main Patient Parking Area Renovated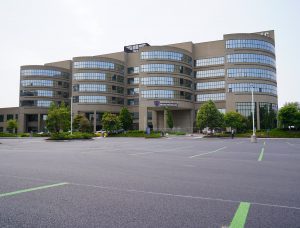 Area 40, the primary patient parking lot on UToledo's Health Science Campus (located south of Arlington Ave. near UTMC's main entrance), was completely renovated and reopened well ahead of schedule this summer. The completion of the project not only elevates patient convenience, but also enhances the overall campus environment.
Area 43 Construction Project Complete
Area 43, the surface lot located south of the Health Education Building – just south of Transverse Drive between Health Center Drive and E. Medical Loop, is now open. The parking area underwent extensive stabilization and a complete reconstruction from the ground up while correcting drainage issues.
Various additional parking areas on both Main and Health Science Campus were resealed and restripped.
The improvements to the parking areas across both campuses reflect ParkUToledo's unwavering commitment to enhance the overall experience for students, faculty, staff and visitors at The University of Toledo.
— — — 
If you are a UToledo student or employee with a permit who plans to park in a patient only area, please submit a Parking in Reserved Patient Area Form.
Unless explicitly stated in the article above, please remember all vehicles on campus must be registered with a permit purchased online in advance or by utilizing the ParkMobile App or a parking meter when visiting campus.
Updated parking policies and procedures do have parking permits enforced between semesters, during academic breaks and on weekends.
Permit Enforcement Hours: Monday through
Friday 7AM-10PM
Saturday & Sunday 9AM-5PM
On weekdays from 5PM-7AM and on Saturdays & Sundays, active permits may park in areas designated for other permits. Exceptions include: reserved, disabled, metered, patient and no overnight parking spaces/areas – which are enforced 24/7.